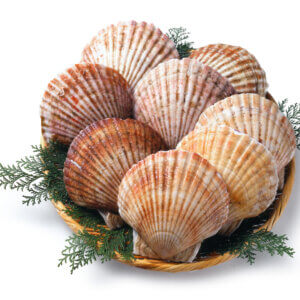 Japanese scallop
from Aomori
Aomori Prefecture has the second-highest scallop catch in Japan, after Hokkaido.
They make up a large portion of Aomori Prefecture's haul of marine products.
Mineral-rich water filled with nutrients flows from the surrounding mountains into Mutsu Bay, which is bordered by the Shimokita and Tsugaru Peninsulas, creating an environment that is rich in the phytoplankton that scallops consume. Scallops grown in this environment are not only delicious, but also feature a clear sweetness and a thick adductor muscle.